For more information Ask A Question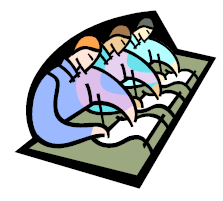 ---
Alexandria Memories
3rd Monday
If you are interested in the history of Alexandria, this is the group for you. Each month we discuss a facet of Alexandria's history. In the coming months we have planned a two-month program about Alexandria and Slavery. Participants may choose a topic they would like to hear about, and almost any topic is acceptable. Join us and share your memories.
TOP
---
Arts – Painting
Monday
Watercolor, Acrylic Painting Projects. We will also work on projects selected by the class. I look forward to seeing everyone there. New projects are shown and taught.
TOP
---
Singing Group
Thursday
Seniors cannot sing!?! That's a myth!! Anyone who loves music and singing come each Thursday from September to June, and join us crooning to enchanting American oldies and popular songs especially prepared for you. We even have a collection of international songs you will enjoy singing. Everything you need is provided, just bring along your voice.
We have visitor's songbooks for visitors who drop in and audit our singing sessions.
TOP
---
Computer Tech Time
Every Friday
Open to help any computer user. You may use our computers at any time except when the room is in use by a class.
Come and enjoy.
TOP
---
One-on-One Computer Instruction
As scheduled – Monday, 10 a.m. & 11 a.m, Room 215
Computer Sessions on Monday at 10 a.m. and 11 a.m. These are by reservation only.
Check out the Computer Class Board on the first floor lobby for more information of when these sessions are held.
We offer "one-on-one" sessions. The Instructor and student spend one hour discussing and solving computer problems and practices.
A sign-up sheet is on the 1st floor Computer Bulletin Board.
TOP
---
Computer Discussion w/Bob
Every Tuesday from 9:30 a.m. – 11:30 a.m.
DROP-IN – Reservations not required
Hollin Hall's Computer Lab – Room 215
Drop in and join us (no registration required) for lively discussion based classes on a wide range of home entertainment, computer and smart phone topics. Some classes cover home network security and privacy issues related to all of the above. NO homework, NO tests, and NO one fails.
TOP
---
Computer Practice
You may use our computers between 9 a.m. and 3:30 p.m. whenever classes are not scheduled.
Check computer board on first floor across from the SCANDESK for schedule of classes
TOP
---
French – Conversational
Wednesday, 2 p.m., Room 201
This class is designed for those who have sufficient knowledge of French to carry on regular conversations but who need to improve their skills and confidence. Emphasis will be on conversations dealing with subjects selected by the students. There will be a minimum of grammar.
---
Friday History Group
2nd and 4th Friday
There will be presentations and group discussion on American history and history of other great nations both past and present. Come and learn about a variety of topics which include basic government knowledge, cultural differences, how nations and empires have evolved throughout history, and more. Just drop in! All senior center members are welcome.
---
Italian for Beginners
Wednesdays
The class will introduce participants to basic Italian vocabulary, pronunciation, and grammar of the Italian language. This Italian class is intended for students who have not previously studied Italian as a formal class, and who would like to learn to speak Italian and know more about the Italian culture. The class will focus on practical language, often used in travel, and everyday situations.
Reservations Required
Sign up in Orange Binder – Limited Class Size
---
Military History Discussion
2nd and 4th Monday
Discussion Schedule

The Military History Discussion Group meets from 10 AM to noon on the 2nd and 4th Monday of the month. Programs cover all eras of military history, but there is a natural tendency to emphasize the 20th Century. The group does not meet in the summer. See schedule provided on the bulletin board for specific programming.
TOP
---
New York Memories
3rd Friday
What started as Hometown Memories has grown over the past eight years to become a fascinating look at New York…now and in the past. We encourage anyone who would like to research and present a program to do so. Think of it as a self-enriching experience!
You do not need to be a New Yorker to enjoy this group…We Welcome Everyone!
TOP
---
Beginning Spanish
Thursday, 1:30 p.m.
Room 103 except when Art Club meets then Room 109
This is a Beginning Spanish class.
---
Spanish-Conversation
Tuesday
The object of this course is to remember vocabulary from high school or college and with this material, form sentences for everyday use in order to converse enough to communicate in the Spanish world. The bottom line is to learn a very basic Spanish and to have fun.
TOP
---
The Vegetable Garden
"Fast Food" Center of Hollin Hall Senior Center
Contact: Becky Bilowus
For people who want to try growing their own vegetables, reap the physical and mental benefits of communing with nature in our small organic garden, located right outside Room 112 on the grounds of Hollin Hall Senior Center. Becky will provide tools and seed expertise, including introduction and additional information as needed. You do the planting, weeding and (hopefully) eating.
Even if you are not a gardener, check out our garden board to see announcements of upcoming programs, articles of interest and garden records.
Fresh air and exercise is good for the body and soul!
TOP
---
Woodworking
The woodworking room is for individuals who are members of the Center, and have completed the Safety Training Class before using the woodworking shop.
Participants must have some knowledge of woodworking equipment before using the room.
---
Basic Woodworking Class for Beginners
Second Wednesday at 10:30 AM
Room 202
With Dan Snider. Welcome Dan Snider, our Basic Woodworking 101 Instructor! Dan is retired and has five hobbies, one of them is woodworking. Have you always been interested in learning about the basics? Well this is your opportunity! The class will take place in the HHSC Woodworking Shop.
The first class begins Wednesday, May 10. You will learn: Safety, wood types, tools-measuring, cutting, sanding tools; drills, fillers, glues, routers and on and on. Interested? Please sign up in the orange binder if you are interested learning more! Open to ladies and gents!